Changing The Times is an Alternate History Electronic Magazine that is dependent upon contributions from its readers.
If you like Alternate History and fancy yourself the next Harry Turtledove, please join and submit some of your work and read and comment on the works of others.
Please read Changing The Times- An Introduction before continuing.
After that, if you would like to join, please read carefully the terms and conditions/submission guidelines and then write your email in the box below.
In order to submit your work, email it to: submit@spamproofchangingthetimes.net
(Remove 'spamproof')
Why Join
Club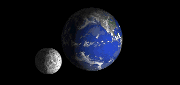 ChangerS?
You Get
FREE CTT Membership!
FREE CTT Updates!
FREE CTT News!
And FREE CTT Exclusive Email Chat!